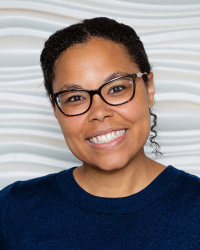 Undergraduate
University of Missouri - Columbia, MO (MIZZOU)- 2003-2007

Medical School
University of Oklahoma - OUHSC 2007-2011

Residency
UMKC - Kansas City MO OB GYN residency 2011-2015

Board Certification
ABOG certified

Previous practice
CSOBGYN with UC Health 2015-2023

Born into a military family, I grew up in various parts of the country and overseas. This instilled in me a deep sense of adaptability and compassion, which helped to lead me to pursue a career in women's health. Now with over 10 years of dedicated practice in women's health, I will strive to be a trusted advocate for the well-being of my patients. It is so very special to me (and quite an honor) to get to be a part of a woman's journey from beginning to end.

My family includes my wonderful husband (an HR generalist/SAHD) and two bright children. When I'm not caring for patients, I love going to the movies and spending time with my babies! When it comes to the NFL we are a red family through and through (GO CHIEFS!). However I have to admit we are a house divided with college football. One of us is a MIZZOU tiger and the other a JAYHAWK!