Breastfeeding Education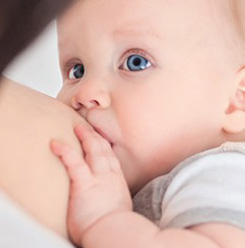 Breastfeeding's benefits are numerous! Breastmilk transfers mom's immunity to her infant's immature immune system. A mother's breastmilk is perfectly suited to supply her infant's nutritional needs. Formula feeding is associated with higher risk of ear infections and also chronic diseases later in life such as Type 2 diabetes, asthma and childhood obesity.
The American Academy of Pediatrics recommends that babies receive breastmilk only for their first 6 months, and that they continue to be breastfed until 1 year of age.
The risk of breast and ovarian cancer is lower for moms who breastfeed. Breastfeeding also helps the uterus contract back to its pre-pregnancy size.
After Leaving the Hospital
It can be hard to continue breastfeeding. The Centers for Disease Control and Prevention notes that mothers are more likely to keep breastfeeding with support in the first 4 weeks of their baby's life. Many issues arise in these early weeks when infants are sleepy and might not want to latch correctly. Sore nipples, low milk supply and worries that the infant is not getting enough can be stressful.
Breastfeeding Support Available at Johnson County OB/GYN
Jen Peppard is a Certified Breastfeeding Specialist (CBS), a registered nurse, and a women's health nurse practitioner. She has worked in women's services for 14 years. Jen can help ease you through your breastfeeding difficulties.
Services Offered at an Appointment Include:
Infant weight assessment before and after feeding
Latch assessment to prevent nipple pain
Nipples and breast care
Exploring various breastfeeding holds
Supportive problem solving
How to use a breast pump
How to deal with engorgement
All moms need support, no matter if you are a mom for the first or tenth time. With each new birth comes a time of adjustment and change. Dads are going through changes, too and are welcome at appointments. Please give us a call and allow us to lend you that extra hand.
Contact the office to make a breastfeeding
support appointment with Jen!

913-236-6455